Arizona is a beautiful state choked-full of so many great things to do throughout the entire state. No matter what season it is, there is always something you can do. Even during those winter months when it's a bit colder. Now is the perfect time to pull out the hiking boots and spend a day out in nature.
If you don't know which hike to choose, don't worry. Well, we're here to help. We've got a list of our favorite Arizona winter day hikes to help you decide what you'd like to do this weekend. Remember to check weather conditions and if places are open before heading out.
1) East Wetlands Interpretive Trail
Located near Yuma, Arizona, the East Wetlands Interpretive Trail starts at Gateway Park and is an easy hike for all skill levels. Several years back, Yuma and the Quechan Indian Tribe began working together to restore the wetlands. Now, you can make a day full of adventure meandering along the river. Accessible year-round, where you can also enjoy horseback riding, bird watching, and mountain biking as well. Check out All Trails for more information about the interpretive trail.
2) Thumb Butte Trail 33
You'll find this hike in the Prescott National Forest, near Prescott, Arizona. The Thumb Butte Trail 33 is a two-mile hike where at the crest you will find a beautiful view of the Prescott Area. Much like the last hike, during the summer months, this hike can get a bit crowded. During the winter months, it can get a bit icy and you'll want to keep an eye out for those patches. Head on over to All Trails for more information about the Thumb Butte Trail 33.
3) Courthouse Butte and Bell Rock Loop
You can find this stunning hike just outside of Sedona. It is a 3.9-mile loop where during the summer, you can expect to see a lot of people. But a trip during the cooler months will have fewer people and a stunning view you won't want to miss. With beautiful the beautiful red rocks of Sedona, you won't want to miss out on this stunning scenic trail. For more information, be sure to check out this hike on All Trails.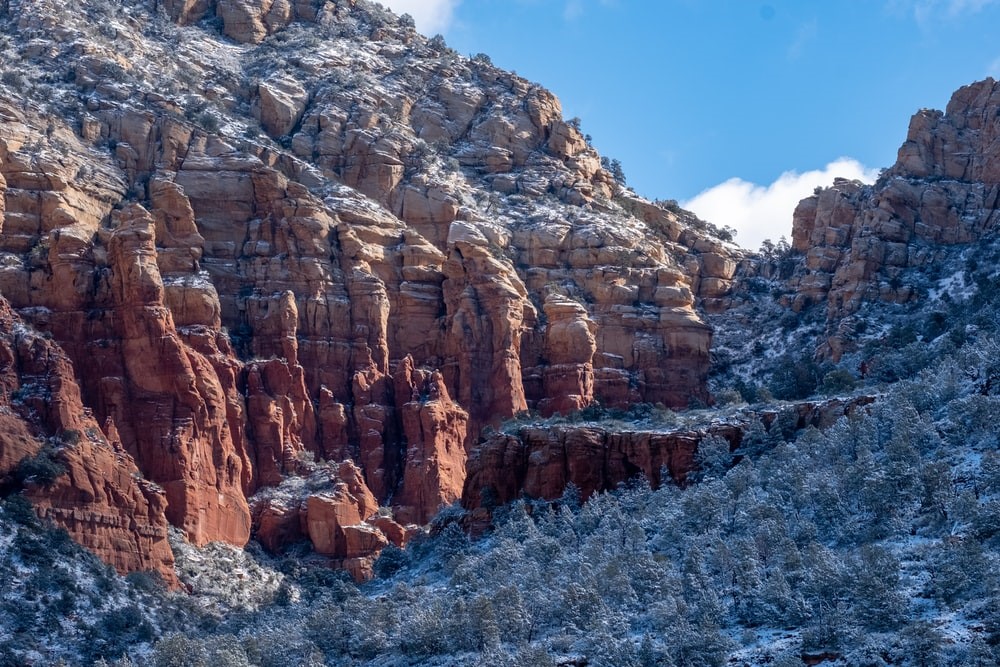 4) Crack-in-the-Mountain
This easy, well-marked trail is a 3.4-mile hike. Taking you through a slot canyon, you won't want to miss out on seeing. In some of the narrower portions of the trail, the walls are only a few feet apart. There is a fee to get into the Lake Havasu State Park, so be sure to look up the pricing before you head out. For more information about the hike, head on over to the All Trails site.
5) South Mountain National Trail
While this is a 16-mile trail, you don't have to do all of it in one trip. Start at the Pima Canyon trailhead and explore for as long as you wish. You can pass Hidden Valley, Telegraph Pass, and many more beautiful sights. There are also some abandoned mines and petroglyphs worth checking out as well. Check out more information about this trail at All Trails.
6) Rim Trail of the Grand Canyon National Park
This well-paved path is great for all times of the year, even during the winter months. And it gives you some of the best looks of the canyon. The Rim trail is 12.7 miles but is good for all skill levels. You'll want to head to the Grand Canyon National Park website for pricing and other activities. Head on over to the All Trails website for more information about the Rim Trail.
We may have only listed a handful of our favorite hikes spread throughout the wonderful state of Arizona. But this is by no means an all-exclusive list. There are far too many great winter hikes for us to name them all. What are some of your favorite day hikes to do around Arizona? Head on down to the comments and let us know.
If you're looking for a new place to live, or are interested in moving to the amazing city of Phoenix, find your next dream apartment here. And while you're on your search for the best apartments, head on over to our post on some of the pros and cons of living in this wonderful city.